Bristol learns lessons from Grenfell response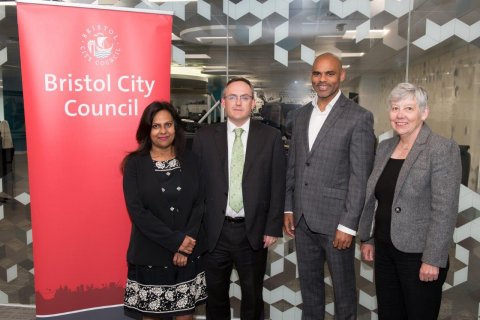 Major Incident Agreement signing. Left to right: Anne Anketell - Chief Executive of Bristol Charities, Richard Gore - Chair of Bristol Charities, Mayor Marvin Rees and Helen Wilde - Trustee of Quarter Community
RISTOL LEARNS LESSONS FROM GRENFELL RESPONSE
Bristol City Council has set up a new arrangement to deal with donations and distribute grants and emergency support in the event of a major incident taking place in the city.
The Council has teamed up with two long-standing local charities – Quartet Community Foundation and Bristol Charities – to make sure the city is ready to cope with the generosity of people who want to donate cash in the aftermath of a major accident, flood, fire or other incident here.
One of the lessons learned from the Grenfell Tower tragedy and the Manchester bomb attack was that councils and charities need to be ready to deal with donations after a major incident. Until now, Bristol, like most councils, did not have a way for people to make charitable donations and distribute the cash to people and communities in greatest need. This new agreement will ensure that, right from the start of a major incident, there is a way for people to make donations and a quick response to get support to the people affected.
Mayor Marvin Rees said: "People are so generous when there's a tragedy but their donations don't always get to the right people and places quickly enough. We hope this plan will never be needed but it's good to know that we're ready to act in a speedy and transparent way if there ever was a major incident here."
Helen Wilde, Trustee of Quartet Community Foundation, said: "From floods and fires to foot and mouth disease, community foundations are used to helping in emergencies. If the worst should happen here, we'll be ready to work with Bristol City Council and Bristol Charities as the safe way for people to donate and know their generosity will get to the communities and people who need it most."
Anne Anketell, Chief Executive of Bristol Charities, said: "Since 1835 we've been making sure local people in need are well supported. We already have strong systems for allocating goods, food and grants to people in need and we're ready to ramp these up if ever needed."
Information about how to contribute to an emergency fund would be made available to the public at the time.