BRISTOL CHARITIES COMMUNITY CHEST FUND
PLEASE NOTE: The Community Chest Fund is now closed to applications. Please keep an eye on this paqe and out social media platforms as we may be able to launch another round later on in the year.
Bristol Charities wishes to support the continued efforts of local organisations and local spirit during these difficult times. We will be awarding grant funding to Voluntary and Community sector groups and Charities. These grants should be for projects/activities/initiatives to further improve the quality of life for communities in Bristol.
We are hoping to use local knowledge to provide local funding in the North, South and East areas of Bristol.
The Bristol Charities Community Chest is open for applications with immediate effect
Applicants will be notified of the outcome of their application within 2 weeks of its receipt
Applications are invited on a rolling basis until March 2021 or until all funding has been allocated. This will be confirmed on our website
On completing the funded project, all applicants must complete a brief evaluation to demonstrate the impact of the funding
How much will be awarded?
Up to £2,000 for constituted groups
Up to £1,000 for Groups that are not constituted
Please click the button below to access the application form. Once you have completed the form, please email to: Grants@bristolcharities.org.uk
or post to: Grants Administrator, 17 St Augustines Parade, Bristol, BS1 4UL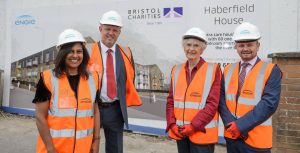 Bristol Charities and ENGIE celebrate reaching the highest point of the build at Haberfield House on the 12th June 2018.
Read More
"I cannot thank you enough for helping me get a proper bed. I have been on a camp bed for 5 weeks. I have a spinal problem…that has got worse. Today I got an orthopedic three quarter bed, with a nice metal frame. It is so comfortable. Thank you so much. I medically needed a bed and I am looking forward to sleeping in comfort.
With gratitude."
— Ms R. R - Grant recipient
Dear Sir, Madam and all who do the magnificent work at Bristol Charities,
You recently donated £120 to my mother, who has a damaged spine and neck; making sleeping very painful.
I got a memory foam from Bristol Bed Maker with other funds to make up the shortfall. It is wonderful!!! Thank you so much it really makes a difference!
— Mr G. B
Thanking you very much for the carpet you supplied to me. After many months of homelessness, I am now settled in my new flat.
Your generosity and kindness has helped me greatly and the contractors did a great job. Once again, Thank you.
— Mr R. M
Thank you to Bristol Charities and supplier for the Russel Hobbs oven which is brill! I had my first roast dinner this week.
Well done and I hope I can give back one day.
— Mr R. A