Furniture / White Goods Catalogues
Electrical Goods Catalogue
NE Appliances is the largest independent retailer of appliances in Bristol, they are also proud to be considered the largest independent supplier of bespoke and fitted kitchens in the city.

Please note the following delivery charges for white good items:
Washing Machines & electric cookers
Delivery, connection and removal of old appliance £50
Fridge Freezers
Delivery, connection and removal of old appliance £35
Small appliances such as hoovers, microwaves etc.
Delivery £15.00
With three stores based in and around Bristol, Kustom Floors and Furniture are market leading experts in the supply and installation of flooring as well as furniture.

At Kustom we understand that no customer is the same, as such we have a variety of options available to suit everyone.
We also have a friendly team on hand to help with any queries that you may have.
Please note that any orders under £250 will be subject to a £20 delivery charge.
If you need items assembled, it will be £45 per item and £75 for bunk beds.
Please factor these costs into the amount you have been awarded.
We also work with a number of British Heart Foundation stores located in Horsefair and Kingswood, where we are able to offer a voucher for any desired second-hand goods.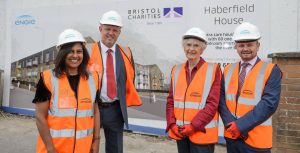 Bristol Charities and ENGIE celebrate reaching the highest point of the build at Haberfield House on the 12th June 2018.
Read More
"I cannot thank you enough for helping me get a proper bed. I have been on a camp bed for 5 weeks. I have a spinal problem…that has got worse. Today I got an orthopedic three quarter bed, with a nice metal frame. It is so comfortable. Thank you so much. I medically needed a bed and I am looking forward to sleeping in comfort.
With gratitude."
— Ms R. R - Grant recipient
Dear Sir, Madam and all who do the magnificent work at Bristol Charities,
You recently donated £120 to my mother, who has a damaged spine and neck; making sleeping very painful.
I got a memory foam from Bristol Bed Maker with other funds to make up the shortfall. It is wonderful!!! Thank you so much it really makes a difference!
— Mr G. B
Thanking you very much for the carpet you supplied to me. After many months of homelessness, I am now settled in my new flat.
Your generosity and kindness has helped me greatly and the contractors did a great job. Once again, Thank you.
— Mr R. M
Thank you to Bristol Charities and supplier for the Russel Hobbs oven which is brill! I had my first roast dinner this week.
Well done and I hope I can give back one day.
— Mr R. A