The portal is now closed and will reopen in 2024 (date TBC).
The grants to individuals programme helps people that are in need, hardship or distress, or people suffering from ill health, are convalescent or have a disability.
Applicants who are due to move to a new property
Please do not make a grant application if the person you're supporting has not yet moved into their property or they are due to move soon.  Please only apply once the move has taken place. This is so that our limited funds are used to provide support when it is most needed.
We can help with ONE of the following:
We cannot help with the following:
COVID/BREXIT UPDATE: Please note due to the pandemic/customs issues, there may be a delay in supplying some furniture or white goods. Some items may not be delivered for up to 2-3 months or some items may not be available. Alternative items may be offered.
In order to be considered for a grant, you must first nominate a "sponsor" to apply on your behalf. This needs to be somebody from a professional background who can validate your financial details and fill in an application form for you. This can be a social worker, support worker, housing officer or a healthcare professional etc. (If you are a sponsor please see the "Registering as an approved sponsor" section underneath the Grants heading).
Your sponsor will then need to register through our website. Once registered, they will receive a link to the online application form which they must complete on your behalf.
Once this has been submitted, we will review your application form and let your sponsor know by email if you have been successful or not and what further steps to take.
If your grant has been successful you will need to choose your desired items from our online catalogues (please see the catalogues tab for further details).
For flooring grants, a floor fitter will attend your home to measure the rooms, supply samples and fit the flooring.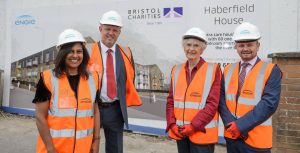 Bristol Charities and ENGIE celebrate reaching the highest point of the build at Haberfield House on the 12th June 2018.
Read More
£
of funds distributed in 2020
"I cannot thank you enough for helping me get a proper bed. I have been on a camp bed for 5 weeks. I have a spinal problem…that has got worse. Today I got an orthopedic three quarter bed, with a nice metal frame. It is so comfortable. Thank you so much. I medically needed a bed and I am looking forward to sleeping in comfort.
With gratitude."
— Ms R. R - Grant recipient
Dear Sir, Madam and all who do the magnificent work at Bristol Charities,
You recently donated £120 to my mother, who has a damaged spine and neck; making sleeping very painful.
I got a memory foam from Bristol Bed Maker with other funds to make up the shortfall. It is wonderful!!! Thank you so much it really makes a difference!
— Mr G. B
Thanking you very much for the carpet you supplied to me. After many months of homelessness, I am now settled in my new flat.
Your generosity and kindness has helped me greatly and the contractors did a great job. Once again, Thank you.
— Mr R. M
Thank you to Bristol Charities and supplier for the Russel Hobbs oven which is brill! I had my first roast dinner this week.
Well done and I hope I can give back one day.
— Mr R. A