Barstaple House couple celebrating 69th wedding anniversary and 90th birthday
"She was my 21st Birthday present": Barstaple couple are celebrating their 90th birthday and 69th Wedding Anniversary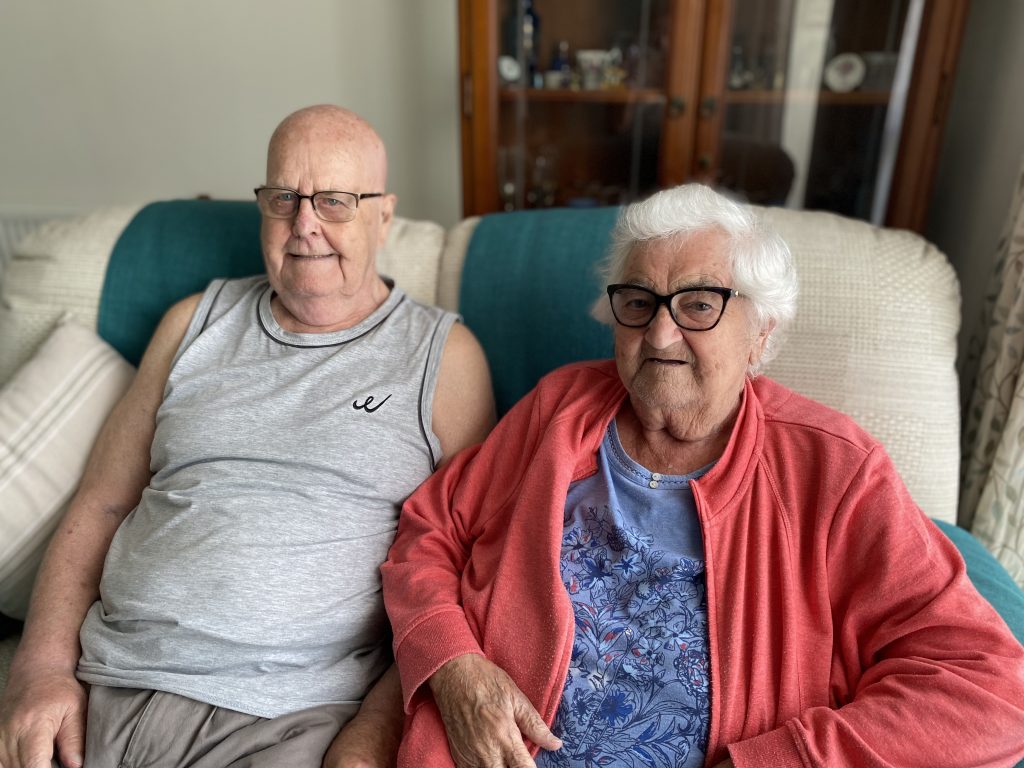 Brian and Dawn Veal are marking their 69th wedding anniversary this week, which you'd think would be cause enough for celebration. For them, though, 7th June is even more special, as it's also Brian's 90th birthday!
We were keen to find out more about their lives and their plans for how to mark two momentous occasions, so our Communications and Marketing Manager Daisy was lucky enough to be invited to their apartment in Barstaple House for an interview. 
Brian tells me that he was born in 1933 in Budleigh Salterton in Devon, and Dawn hails from nearby Exmouth. "I grew up in Budleigh and attended St Peter's School. I followed in the footsteps of my dad, who was a carpenter, and became an apprentice bricklayer at the same firm he worked in in 1948, when I was 15. I was a bricklayer until I was called to do National Service at aged 18 – unfortunately my boss wouldn't give his sign off for me to complete my apprenticeship! I became a Clerk in the Army based at Salisbury Plain."
Dawn and Brian had first crossed paths years ago when she was riding his cousin's bike and rode it into a curb, buckling the wheel – and they say first impressions matter! It was when Brian was on leave from Salisbury Plain that they attended the same dance and met properly. They began writing to each other immediately afterwards when Brian headed back to Salisbury.
Dawn was working in a knitwear manufacturer at the time, sewing cuffs and collars onto garments by hand. They married on Brian's 21st birthday when Dawn was just 19. "She was my 21st Birthday present!", Brian told me proudly.
Brian finished his time in the army and completed his apprenticeship. They had their first child, Adrian, before Brian moved up to stay in lodgings in Avonmouth where he worked as a bricklayer, leaving Dawn at home in Devon and returning at the weekends. Eventually, the family moved up to live in Lawrence Weston in Bristol where they had their three daughters Teresa, Janete and Sara. They tell me how much Bristol has changed in this time – "Broadmead was being built when we moved here, and Brian was involved in building it. Everything has grown over time and there were bags of work for bricklayers!"
"We were very involved in the community in Lawrence Weston: I was Chairman of Governors for the secondary school and was also a member of Our Lady the Rosary, as well as being a member of the Labour party since 1963.", Brian recounts. "I moved into Industrial Relations, where I worked as a trade union official in construction for over 24 years. I eventually joined the National Joint Council and was lucky enough to be abroad to work on occasion."
Brian and Dawn moved to Benalmadena in Spain in 1999 – Dawn says, "We just wanted to go and that's where we ended up!" They found that the sun helped hugely with Dawn's arthritis, and that after a few days she'd notice a huge difference in her ability to walk up and down the promenade that their apartment was next door to. They had a lovely time in Spain, recounting anniversary celebrations, Spanish meals and being welcomed. "We had fun with the language – on a good day it was good and on a bad day it was tricky!", says Brian.
When they had turned 80, it was clear that family wanted them back in the UK. They moved
back to Westbury on Trym with their daughter then began the process of looking for somewhere of their own to live. After finding that rules had changed around local authority housing, they found out about Bristol Charities in 2016 and moved into the newly-build Barstaple House in Brentry. They've lived here ever since and have enjoyed making their apartment their own and getting involved with various events and celebrations over the years.
To mark their big birthday and anniversary, they feel lucky to have family who are putting on a 'do for them. Brian says they weren't supposed to know about it - "I bumped into an old friend a few weeks ago who let slip that something was happening at the Working Men's Club at Lawrence Weston. I called my granddaughter Shelayne and said, 'you don't need to tell me what's happening, but is something happening?!'"
We would like to wish Brian and Dawn a very happy 69th anniversary and offer Brian many happy returns on his 90th birthday.